Repair chips or discoloration fast.
After you've suffered a chipped, broken, or discolored tooth, one of the options that you have for repairing your tooth is bonding. Tooth bonding is an alternative to veneers.
What can dental bonding repair?
Dental bonding is a process through which your dentist applies a composite resin over the broken or damaged area of your tooth.
Broken Teeth
Chipped Teeth
Discolored Teeth
Lengthen Teeth
Change the Shape of Teeth
Repair Decay
Alternative to amalgam fillings
Close the Gaps Between Teeth
SAME-DAY APPOINTMENTS
EMERGENCY APPOINTMENTS
CONTRACTED WITH INSURANCE
Benefits of Dental Bonding
Tooth bonding is generally an inexpensive cosmetic dentistry procedure, and, unlike veneers or crowns, dental bonding does not require the removal of enamel. However, the composite resin is not as durable as other materials, so the material is prone to chipping and cracking and only lasts a few years.
During an initial consultation, your dentist will work closely with you to determine whether or not tooth bonding will be an effective repair for your chipped, discolored, or damaged tooth. We will perform a thorough examination to decide whether or not tooth bonding is the appropriate treatment for your long-term oral health goals. If you are in need of a stronger or more permanent repair, we may suggest that you consider veneers or a crown.
Dental Bonding Treatment
Tooth bonding takes only one 30-minute visit. During an initial consultation, your dentist will match the shade of your teeth so that the composite resin used will blend in with your teeth. We'll then prepare your tooth by etching it and applying a liquid that will help the bonding material adhere to your tooth. Once the material hardens, we will shape the tooth.
Bonding is an effective treatment for most people with minor damage. If you have a broken or discolored tooth and want to know more about how tooth bonding can help repair your tooth, call our office today to schedule your appointment.
Seattle Dental Bonding Dentists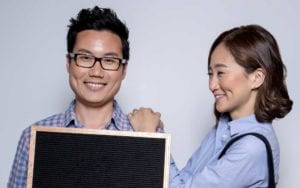 What does dental bonding cost?
Let us review and consider you for dental bonding in Seattle today! Call our Seattle cosmetic dentistry practice or submit your information online for a free consultation and cost estimate. We can provide you insurance benefits information.
Additionally, we've partnered with Care Credit to provide our patients with a six-month no-interest, dental bonding financing plan in Seattle.
Be sure to ask our office for more details!
Angela M.

Google Review

"Everyone at Cornerstone is professional, friendly and overall excellent! I'm glad I was referred to them by another happy patient!"
Angela N.

Google Review

"Best front desk for sure! Everyone was friendly and helpful plus my cleaning wasn't painful at all. Great dentist and all co-workers. I never write reviews, but they deserve a shout out!"
Paula F.

Google Review

"Your search for a perfect dental team is over! Cornerstone Dental's husband-wife team practice cutting-edge technology served with a smile! The happy and outgoing support staff are a reflection of a successful dental practice."
Austin S.

Google Review

"WOW. If you're in reading this and in the market for a dentist, look no further. Walking into the doors, you can expect to be greeted personally and welcomed warmly. Then, once you're in the chair, the attention they give you is WELL above par."
George L.

Google Review

"Great dental care. Dr. Ben is so good. He took extra time to discuss my dental options. He went over all of my questions. I highly recommend this office. Thank you for your help, Dr. Ben!!!"